Podcast Studio for rent in Varna
With us, you can rent a fully equipped studio to realize your podcast project.
If you have an idea for a podcast project and you are from Varna, we will help you...
Our studio is decorated and equipped with everything you need for a podcast. Our team will help you with the technique if you have no experience and will give you a completely ready set, in which you just sit down and realize your project.
First and foremost, we are a SHARED OFFICE and our goal is to grow the community around it. We don't just rent a few cameras and 2 microphones. We will try to help you with the implementation of the project and give you ideas if you need.
We will even try to introduce you to many interesting people along our SHARED OFFICE, from whom you can get inspiration.
What will you get with us?
Technics Podcast
Everything you need to record your podcast.
3 cameras, 2 studio microphones, console, decorated studio with handmade table and two office chairs
Streaming
You can broadcast live on social networks.
Our console provides an option for easy and high-quality live broadcasting, in which social networks you decide.
Additional advertising
We will distribute your podcast across our social channels.
Знаем, че всяко начало е трудно, затова ще Ви помогнем да развиете своя подкаст, чрез социалните мрежи на нашия споделен офис. 
Additional ideas
If you need, our team will help you in clearing the concept of your project.
If you wish, we can help you with additional ideas or give you guidance from our experience in shooting and producing video content.
Two studio microphones - Audio-technica AT2020
The two microphones are fixed on the table with stands. They also have a sound card with a USB cable. All you have to do is plug the sound card's USB cable into your laptop.
There are also 2 Alctron MPF02 metal POP Filters for the microphones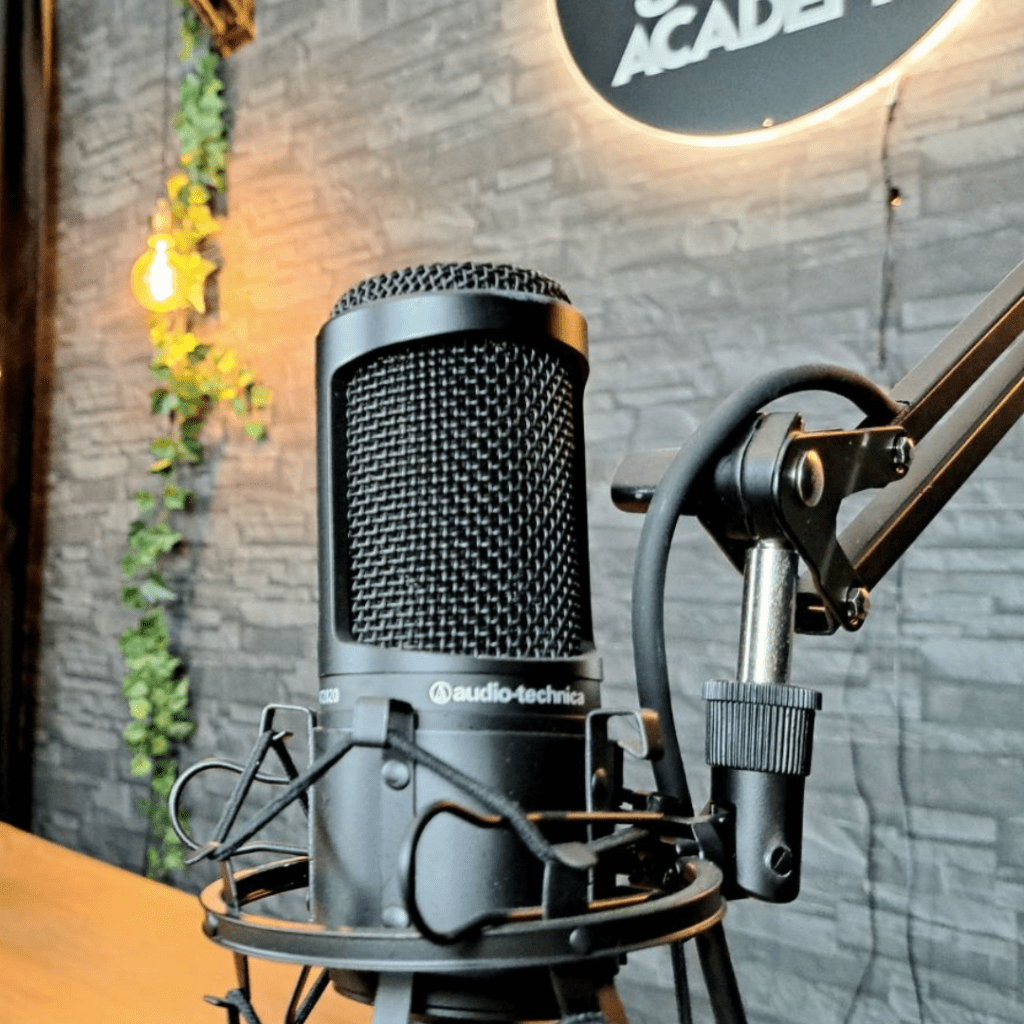 Three cameras - Sony α6000
The cameras have external batteries for continuous recording,
The lenses are E 3.5-5.6/PZ 16-50mm OSS.
Each camera comes with a tripod, and the cameras themselves are tied to our console.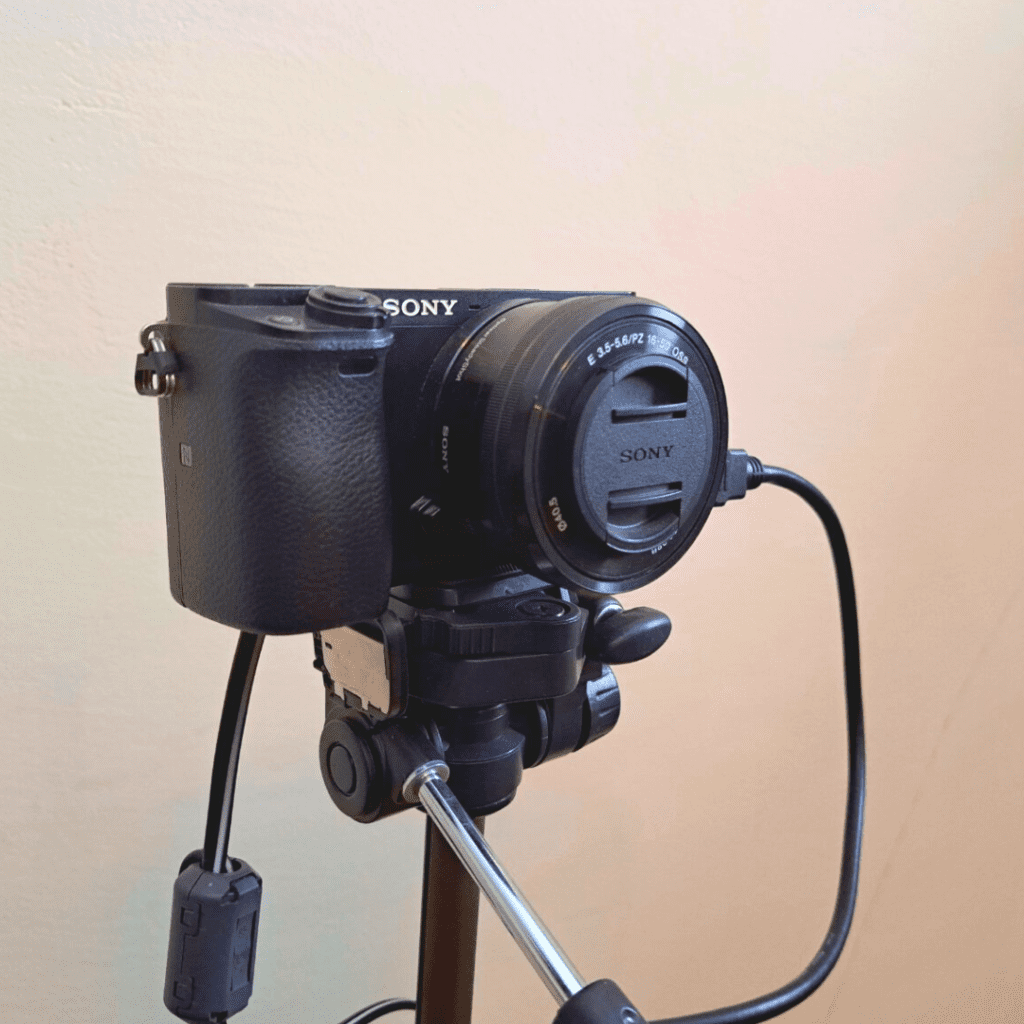 ATEM Mini Pro ISO Live Recording Studio Console
The console also has a SanDisk Extreme Portable SSD – 250 GB
The control panel allows changing the 3 cameras in real time, and the recording that comes out at the end has already been processed according to the active cameras at the given moment. There are also 3 additional full recordings, from each of the 3 cameras.
In addition to recording, the console allows simultaneous STREAMING to social networks.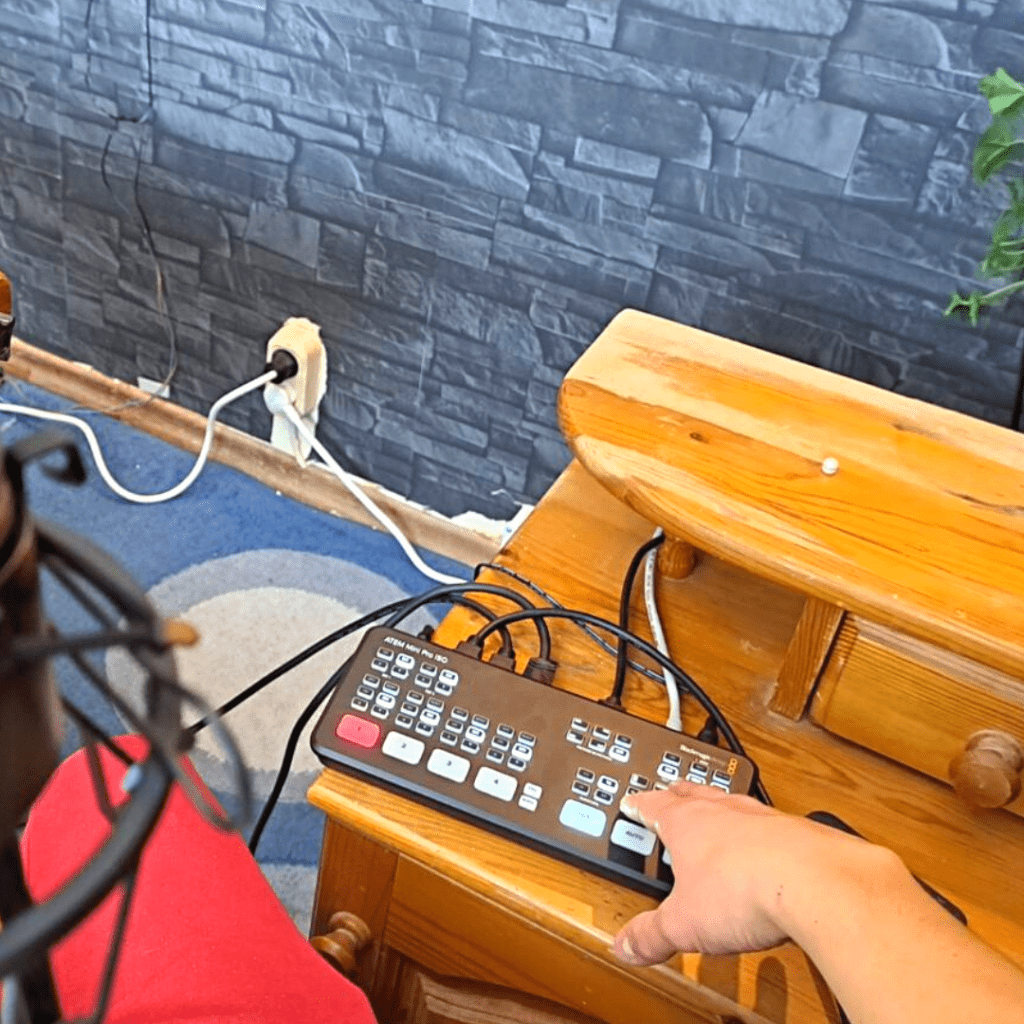 2 light fixtures with softboxes - 5 sockets E26 250V 660W
To each softbox there are also 8 LED spiral bulbs 55W 220V 5500K 50Hz distributed equally in the lighting fixtures – 4×4.
Each softbox has its own tripod.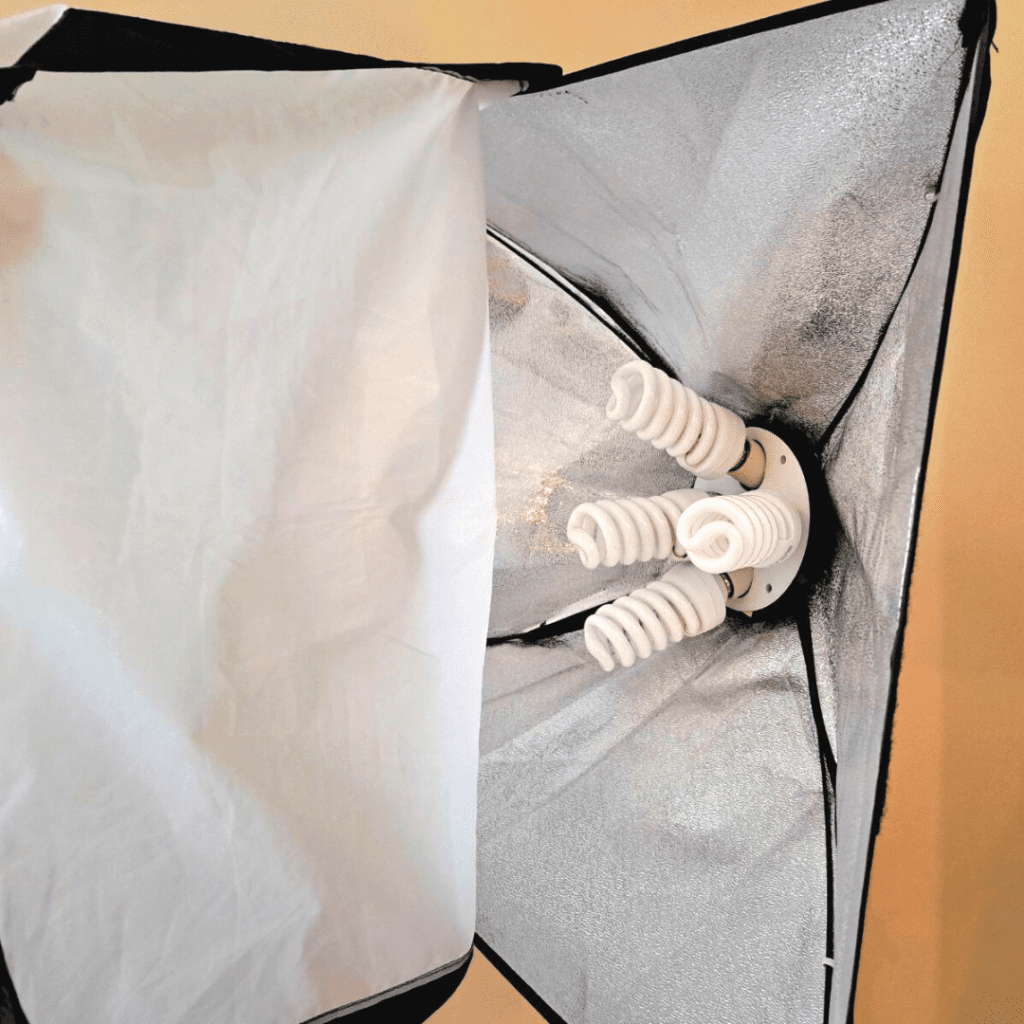 Behringer U-Phoria UMC202HD sound card
The sound card is connected to the microphones and has a USB cable that plugs into a laptop for the microphones to start recording. The process is as simple as possible.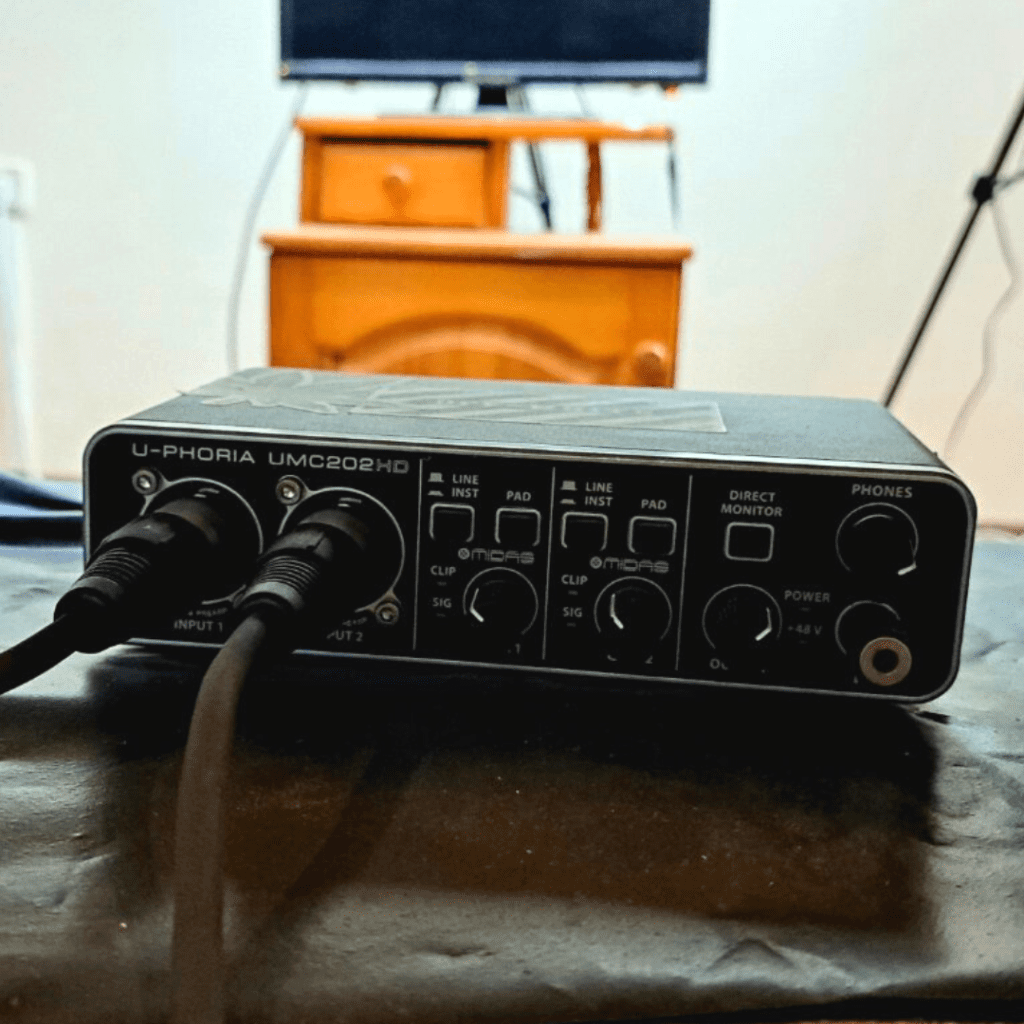 TV DIAMANT 22" LED TV AC 100-240 V~ 50/60Hz
The TV is behind the scenes. It is placed in a convenient place to monitor the picture from the 3 cameras in real time. It is connected to the remote and shows which camera is active according to the remote.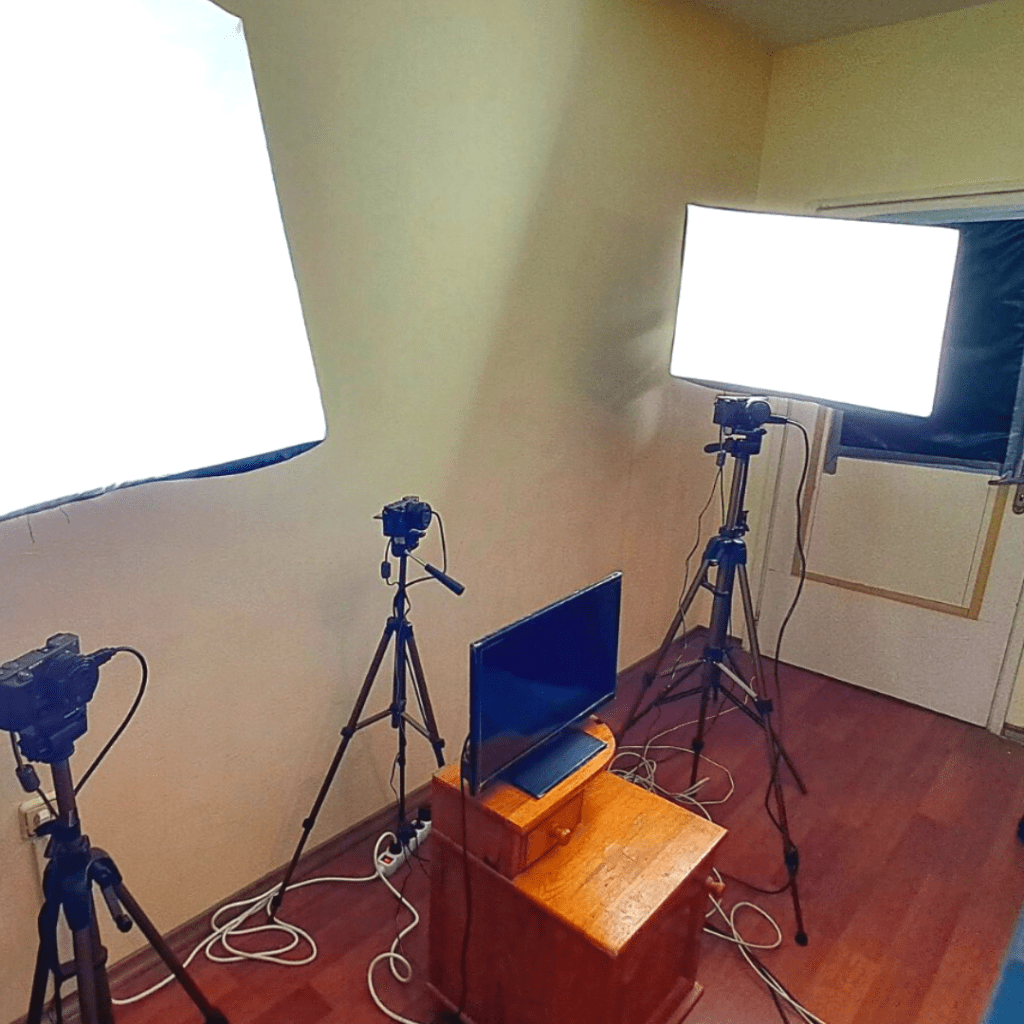 We have all kinds of cables, chargers, power cables, HDMI, XLR, etc. .
The internet speed is 300 Mbps.
We also have additional items such as headphones, mice, external hard drives, etc.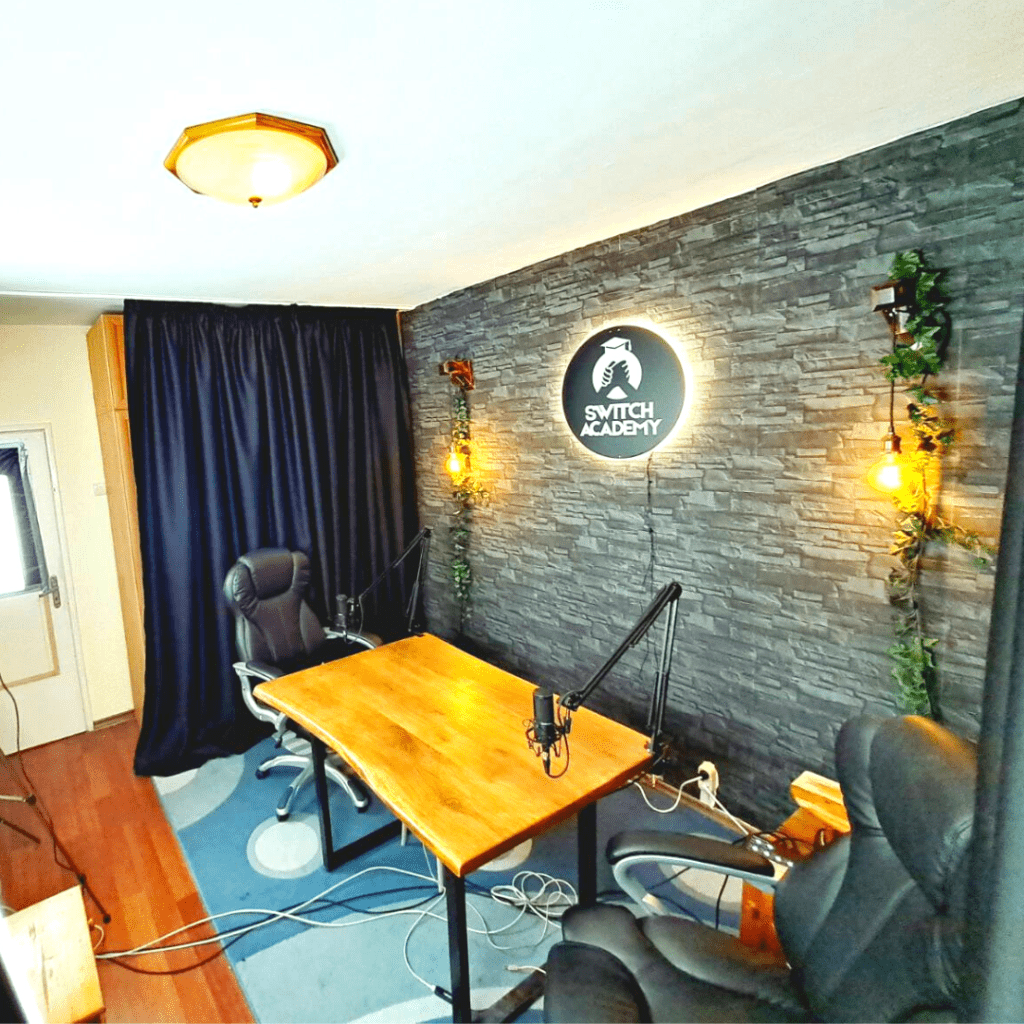 Furnished with a wooden table, handmade and 2 comfortable office chairs.
The decor includes 2 old-style wooden lamp hangers, 2 warm antique lamps + 2 artificial ivy.
Two dense, black, low-reflective curtains.
Colorful stone texture wallpaper.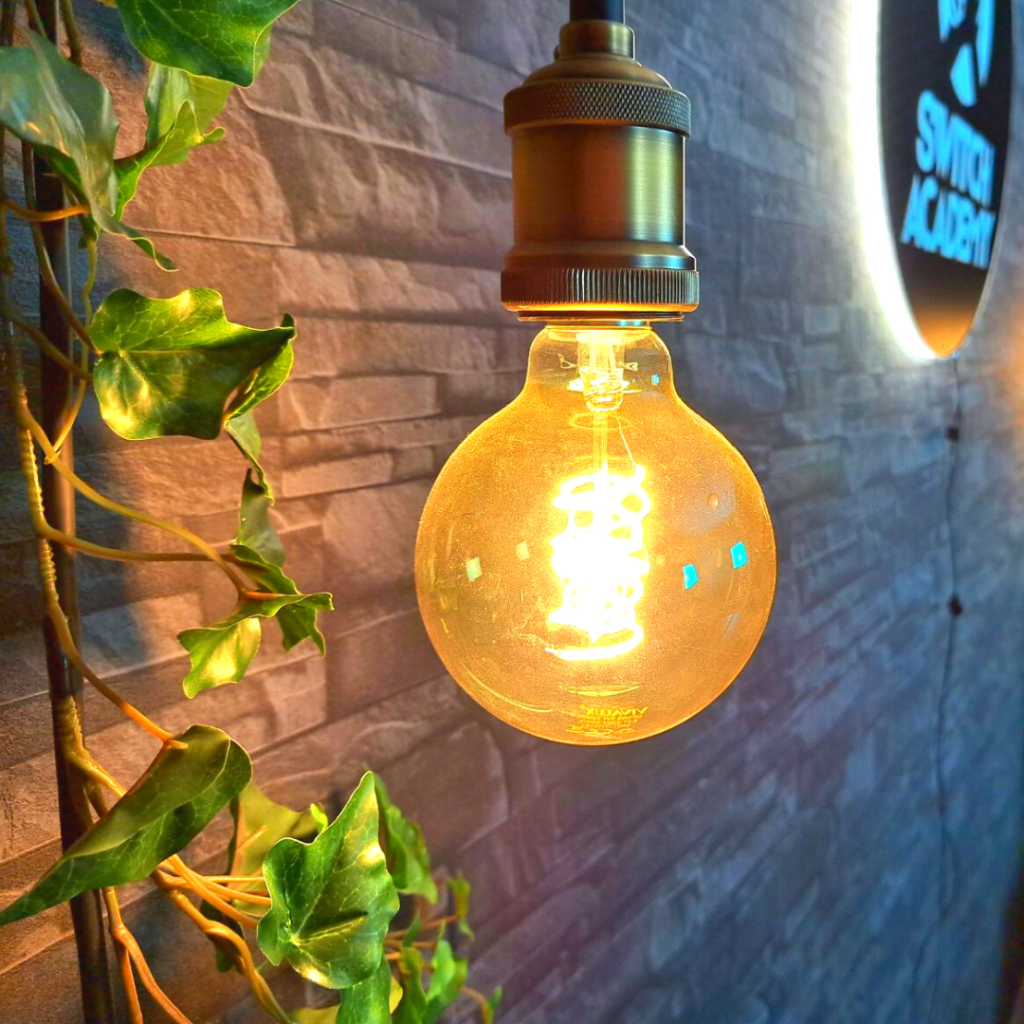 Where is our studio located?
Our studio is located in close proximity to one of our shared offices, at 42 Otets Paisii Street, in the city of Varna.
Extremely convenient, central location. There is ample parking outside the blue zone nearby.
To make a reservation, contact us with one of the two options